peppermint bark spritz snowflakes #fbcookieswap
Chocolate peppermint spritz cookies are dipped in white chocolate and sprinkled with crushed peppermint candies to make these irresistible Peppermint Bark Spritz Snowflakes.
When I signed up for the Great Food Blogger Cookie Swap, I wanted to create a recipe that was based on a tried and true favorite and that would ship well. Spritz Cookies have always been my personal Christmas favorite and it wouldn't be Christmas without a batch of sweet peppermint bark. I decided to combine the two by adding peppermint extract to my chocolate spritz cookie recipe and dipping the cookies in white chocolate and crushed peppermint candies. The cookies surpassed all expectations and will be made again for years to come. This recipe makes a lot of cookies so it is perfect for swapping and sharing with friends and family.

PEPPERMINT BARK SPRITZ SNOWFLAKES
INGREDIENTS
1½ cups (3 sticks) unsalted butter, room temperature
1 cup granulated sugar
½ teaspoon salt
1 Tablespoon peppermint extract
2 large eggs, room temperature
3½ cups all-purpose flour
½ cup black onyx cocoa powder
Ghirardelli white melting wafers
crushed peppermint candy
PREPARATION
Preheat oven to 375 degrees Fahrenheit.
In the bowl of an electric mixer fitted with the paddle attachment, cream together butter, sugar and salt until light and fluffy.
Add peppermint extract and eggs, one at a time, and beat until smooth.
Gradually add flour and cocoa ½ cup at a time, mixing until a soft dough is formed.
Fill cookie press with dough and spritz desired shapes onto an un-greased cookie sheet.
Bake for 8-10 minutes until edges are slightly darker and set.
Allow to cool slightly and then transfer to a wire rack to cool completely.
Melt white melting wafers according to package directions.
Spread a thin layer of white chocolate on the back of each cooled cookie and dip into crushed peppermint candies.
Allow to set completely on a sheet of parchment paper before transferring to an airtight container to store for up to one week.
GADGETS
OXO Cookie Press
I had the pleasure of baking cookies for the wonderful bloggers over at Wine & Plum, The Coers Family and Celebrating Sweets. I do hope they enjoyed their Peppermint Bark Spritz Snowflakes!
I was lucky enough to receive Caramel Coconut Chocolate Shortbread Cookies from The Seaside Baker, Double Chocolate & Cranberry Biscotti from Savvy Eats, and Chocolate Cream Cheese Croissant Cookies from Chocolate Chocolate and More.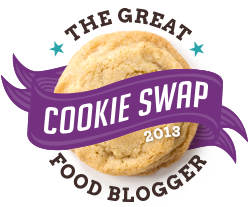 The Great Food Blogger Cookie Swap raised $13,778.40 this year for Cookies for Kids' Cancer! We are so excited to have surpassed our $10K goal by such huge margins! This includes participation fees, extra donations, and contributions from our generous brand partners who matched our donations, dollar for dollar! Thank you to OXO, Dixie Crystals, Gold Medal Flour and Grandma's Molasses!