Fast and Fancy Philadelphia Cream Cheese Tea Sandwiches
*This post is sponsored by Philadelphia Cream Cheese.*

Treat yourself and your favorite girl squad to a fancy afternoon of relaxation and bonding. Afternoon tea couldn't be any easier than with our recipe for Fast and Fancy Philadelphia Cream Cheese Tea Sandwiches.
One of my favorite ways to spend time with the girls is over an afternoon tea service. I just adore sipping tea and nibbling away at small bites while enjoying the company of good friends without feeling rushed out the door. An elegant tea service is incredibly easy to recreate at home thanks to this recipe for Fast and Fancy Philadelphia Cream Cheese Tea Sandwiches. With a few easily accessible ingredients, you're just minutes away from impressing your besties over a pot of hot tea and delicious small bites.
One of my very favorite tea sandwiches is the classic cream cheese and cucumber sandwich. I have seen so many creative variations over the years that have inspired these Fast and Fancy Philadelphia Cream Cheese Tea Sandwiches. The key to these sandwiches is the incredible lemon-and-dill Philadelphia Cream Cheese spread. Made with fresh milk and cream with no preservatives, Philadelphia Cream Cheese is the perfect canvas for building delicious small bites. I layered these tea sandwiches with my favorite ingredients, but I encourage you to get creative with your favorite meats and veggies.
When entertaining, I focus on quality ingredients and thoughtful presentation. With a few simple tricks, these sandwiches can easily be transformed into culinary works of art to impress your friends. I start with a clean foundation by removing the crust and cutting the bread into quarters. A delicious smear of lemon-and-dill cream cheese spread paves the way for your favorite sandwich toppings. Slicing the ham lengthwise and using a mandoline to cut thin strips of cucumber allows you to fold the meat and veggies into a decorative ribbon before stacking and securing with a decorative toothpick.
Go ahead, invite the girls over for an afternoon of catching up over a lovely service of hot tea and these delicious Fast and Fancy Philadelphia Cream Cheese Tea Sandwiches. If you're looking for equally quick and delicious sweets to accompany your tea sandwiches, you'll love our recipe for Semi-Homemade Philadelphia Cream Cheese Lemon Thumbprint Cookies.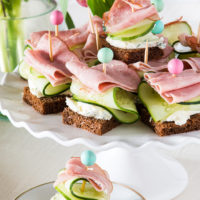 Fast and Fancy Philadelphia Cream Cheese Tea Sandwiches
Ingredients:
1 8-ounce Philadelphia Cream Cheese Brick, softened to room temperature
Zest of one lemon
2 tablespoons chopped fresh dill
8 slices rye or pumpernickel bread
2 cucumbers, sliced lengthwise into 32 thin strips
8 slices black forest ham, cut lengthwise into 1-inch-wide strips
Directions:
Mix together Philadelphia Cream Cheese, lemon zest, and dill in a bowl until well combined. Chill until ready to assemble.
Remove crusts and cut slices of bread into quarters.
Spread a tablespoon of Philadelphia Cream Cheese spread onto each square of bread.
Top with a ribbon of cucumber and ham, and secure with a toothpick.
Serve immediately.

For quick and easy entertaining, turn to Philadelphia Cream Cheese. Always have it on hand to create fun appetizers and desserts that pop. I had a great time developing my Fast and Fancy Philadelphia Cream Cheese Tea Sandwiches for afternoon tea. For more creamy, delicious recipe ideas, click here.