Simple Semi-homemade Philadelphia Cream Cheese Lemon Thumbprint Cookies
*This post is sponsored by Philadelphia Cream Cheese.*

There's nothing sweeter than an impromptu get together with great friends and delicious homemade treats. These Philadelphia Cream Cheese Lemon Thumbprint Cookies couldn't be any easier to throw together for a last-minute celebration of friendship.
Since I moved back home to Texas, several of my dearest friends have welcomed new babies into their families. I just adore the time that I have spent watching these families grow and the sweet baby snuggles that have become the highlight of most of my weeks. Nothing beats an impromptu visit with friends to catch up over a sweet afternoon treat and these Philadelphia Cream Cheese Lemon Thumbprint Cookies are just perfect for the occasion.
One of the best tips I received as my friends started to grow their families was that the best way to sneak in sweet baby snuggles was to offer to help a new mom out. Whether it be a home cooked meal, offering to fold the laundry or unload the dishwasher, or bringing a sweet treat to celebrate the new parents and all of their hard work, I love being able to let mom and dad take a break from their new routine and relax for a few minutes.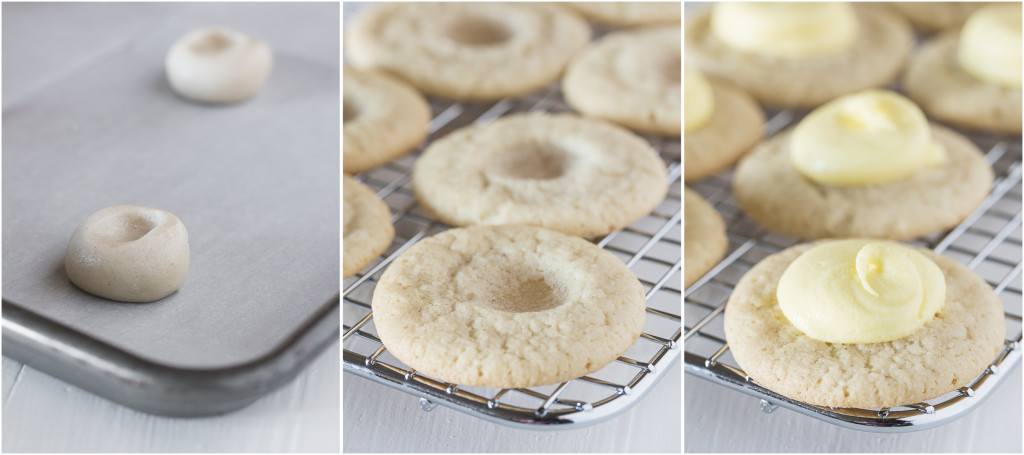 By using your favorite refrigerated sugar cookie dough, these Philadelphia Cream Cheese Lemon Thumbprint Cookies are so easy to throw together at the last minute. Paired with a pitcher of ice-cold lemonade or infused water, these cookies are perfect for impromptu visits with friends and family. The star of these cookies is the rich and creamy lemon Philadelphia Cream Cheese frosting. You'll love it so much that you'll immediately ask yourself what else you can pair it with.
Made with fresh milk and real cream, with no artificial preservatives, Philadelphia Cream Cheese makes the creamiest cream cheese frosting that is equally impressive for everyday celebrations and extravagant events alike. Our favorite accompaniment to this lemon Philadelphia Cream Cheese frosting are semi-homemade sugar cookies, but we encourage you to get creative and pair it with a variety of other cookies, cakes, and cupcakes to celebrate your next special occasion.
SIMPLE SEMI-HOMEMADE PHILADELPHIA CREAM CHEESE LEMON THUMBPRINT COOKIES
INGREDIENTS
8 ounce brick Philadelphia ⅓ Less Fat Plain Cream Cheese Spread, softened to room temperature
½ cup unsalted butter, softened to room temperature
3 cups confectioners' sugar
2 tablespoons fresh squeezed lemon juice
½ teaspoon vanilla extract
few drops yellow food coloring
16.5 ounces refrigerated sugar cookie dough
PREPARATION
Beat together Philadelphia Cream Cheese and butter with an electric or hand mixer until light and fluffy.
Beat in confectioners' sugar, lemon juice, vanilla extract, and yellow food coloring and mix until well incorporated.
Transfer to a large freezer bag or piping bag and refrigerate until ready to serve.
Preheat oven to 350 degrees Fahrenheit.
Divide sugar cookie dough into 32 half-ounce equal portions and roll into balls.
Place balls of dough three inches apart on baking sheets lined with parchment paper. Place your thumb into the top of each cookie to create an indention to fill with frosting after baking.
Bake for 11-12 minutes until edges are slightly golden brown.
Cool completely on a wire rack before frosting.
Cut the corner off of your freezer bag or piping bag and top each cookie with a tablespoon of chilled Philadelphia Cream Cheese frosting. Serve immediately.
Nutrition Information
Serving size: 2 cookies

For quick and easy entertaining, turn to
Philadelphia
Cream Cheese. Always have it on hand to create appetizers and desserts that pop. I had a great time making these Lemon Thumbprint Cookies for an impromptu get-together with friends. For more creamy, delicious recipe ideas, click here:
http://www.kraftrecipes.com/philadelphia/default.aspx