mini cherry cobblers
The secret to a happy home is ending every meal with dessert. A recent visit to the Oregon coast and these Mini Cherry Cobblers were just what we needed to to move past a stressful past several weeks.
Earlier this month I was in the middle of another long period of traveling back and forth between San Francisco and New York weekly for work. The third week turned into one of those scenarios where everything that could possibly go wrong did. My six-hour flight out was spent sharing a seat with the man in the middle as the person next to him had passed out into his, my rental car smelled like a day old frat party, there were some issues with my hotel being paid and I forgot to pack a very important item of women's clothing. There wasn't much that a quick trip to the mall and a boozy birthday cake milkshake from Momofuku Milk Bar couldn't fix, but to say I was ready to get home at the end of the week was an understatement.
Around midnight, almost an hour into my drive home and with my exit in sight, I was rear ended out of nowhere on the freeway. The vehicle that hit me did not have their lights on and was not kind enough to stop, but I was able to quickly pull over to safety and assess that I was alright. I'll jump on my soap box for one second and then continue on with a much sweeter ending to this story. Please take this as a reminder to stay alert when driving. Do not text and drive, be aware of your surroundings and do not trail vehicles too closely. I know very well that I am guilty of the above distractions at times and I cannot even imagine how this story would have ended had I been any closer to the semi-flatbed that was driving in front of me.
Moving on. We were set to drive up to the Oregon Coast for a week of relaxation for Z and his family and a change of scenery of my home office for me. I almost cancelled due to the overwhelming thought of how much I needed to do to take care of the car, but had a beautiful best friend and loving mommy firmly inform me that I needed to get away. We had an absolutely gorgeous drive up the coast and arrived at a beautiful home right on the water by the name of The Sand Castle. Our view was stunning, the local cuisine was fabulous and there is nothing more relaxing than falling asleep to the sound of rolling waves; it was just what I needed to clear my mind and calm my soul.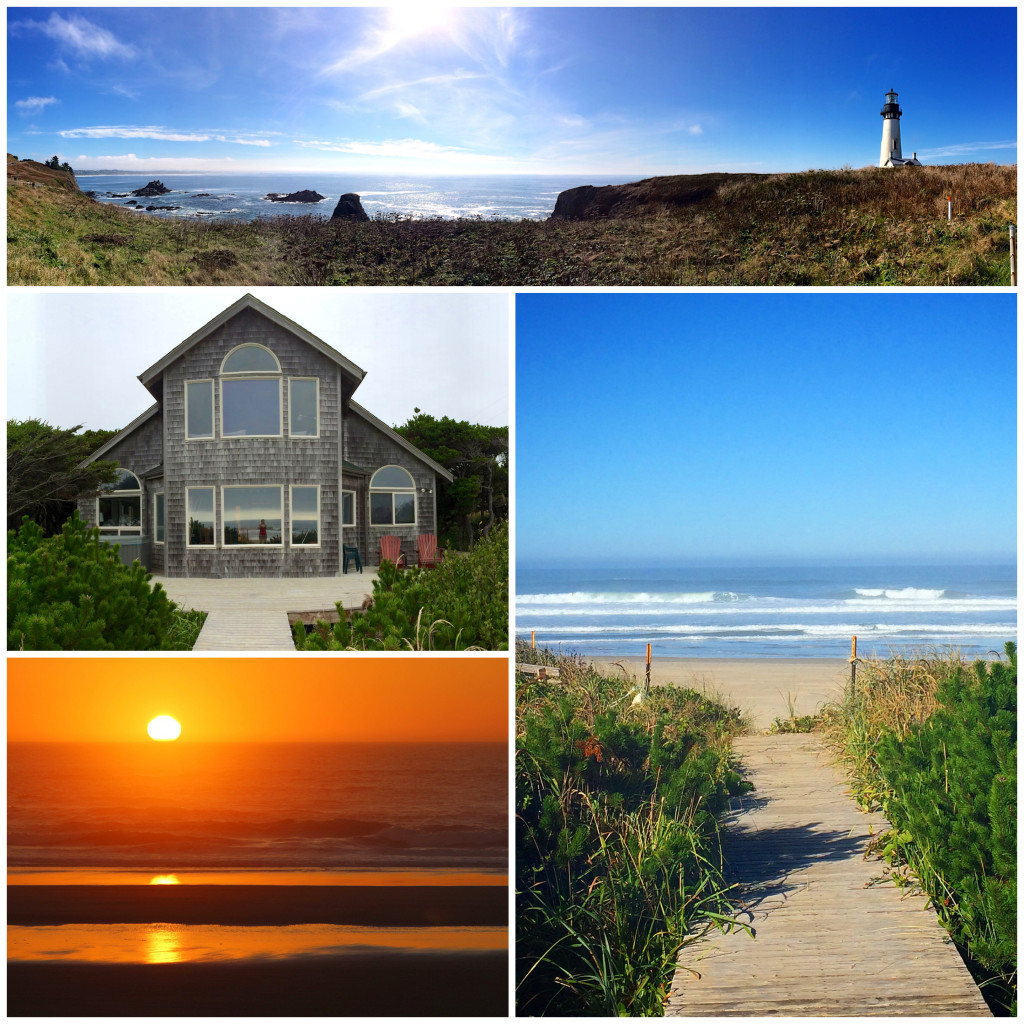 If you've been reading long, it's no secret that dessert is a non-negotiable component of meals in our house. Z has always insisted on dessert with every meal and during our Oregon getaway I learned why. Genetics. I couldn't help but smile as his father rounded out a breakfast of chocolate donuts with a slice of berry pie; because of course he had to add a serving of fruit!
These mini cherry cobblers are a great way to make a quick dessert from scratch and satisfy that non-negotiable end of meal requirement. The small mason jars not only ensure that every serving is full of the crispy crust that makes cobbler so delicious, but also make it easy to store leftovers. Just screw on the lid, refrigerate and re-warm in the oven when ready to serve. In true Oregon fashion, I topped these cobblers with Tillamook's Oregon Black Cherry ice cream. It was the perfect, not too sweet, creamy compliment to these tart mini cherry cobblers.
MINI CHERRY COBBLERS
INGREDIENTS
12 ounces frozen pitted cherries
1 cup sugar, divided
¼ cup water
4 tablespoons butter
¾ cup all purpose flour
1 teaspoon baking powder
¼ teaspoon salt
¼ teaspoon cinnamon
¾ cup milk
PREPARATION
Preheat oven to 350 degrees Fahrenheit. Divide butter between six mason jars or ramekins, place jars on a baking sheet and set aside.
Combine cherries, ½ cup sugar, and water in a small saucepan over medium high heat. Bring to a boil and allow to simmer for 10 minutes until thickened. Remove from heat.
Place baking sheet with jars in oven to allow butter to melt.
Combine remaining ½ cup of sugar, flour, baking powder, salt and cinnamon in a mixing bowl. Slowly stir in milk until a smooth batter is formed.
Remove baking sheet from oven and divide batter between each jar. Carefully spoon cherries into each jar and pour remaining syrup on top. Do not stir.
Bake at 350 degrees Fahrenheit for 30-35 minutes until batter has risen and formed a lightly browned, crisp crust. Serve warm with a scoop of ice cream.
RESOURCES
8 ounce, wide-mouthed mason jars