mardi gras fleur de lis spritz cookies
Every year I rekindle a deep connection with my Cajun roots as I eat my weight in King Cake and gumbo during Mardi Gras Season. These fun Fleur de Lis Spritz Cookies combine the flavors and colors of Mardi Gras into a delicious spritz cookie.
We're kind of obsessed with spritz cookies around here. I've yet to find a holiday that doesn't have the perfect disk to go with it. With assorted sprinkles, candies and food colorings the possibilities are endless. I think I say this every time I make a new batch, but these fleur de lis cookies are by far my new favorite. Green, purple and yellow food coloring, sanding sugars and gold dragees get you ready to celebrate Mardi Gras in no time. The 2014 Mardi Gras season culminates next Tuesday with the celebration of Fat Tuesday leaving you plenty of time to whip up a batch of fleur de lis cookies and join the fun!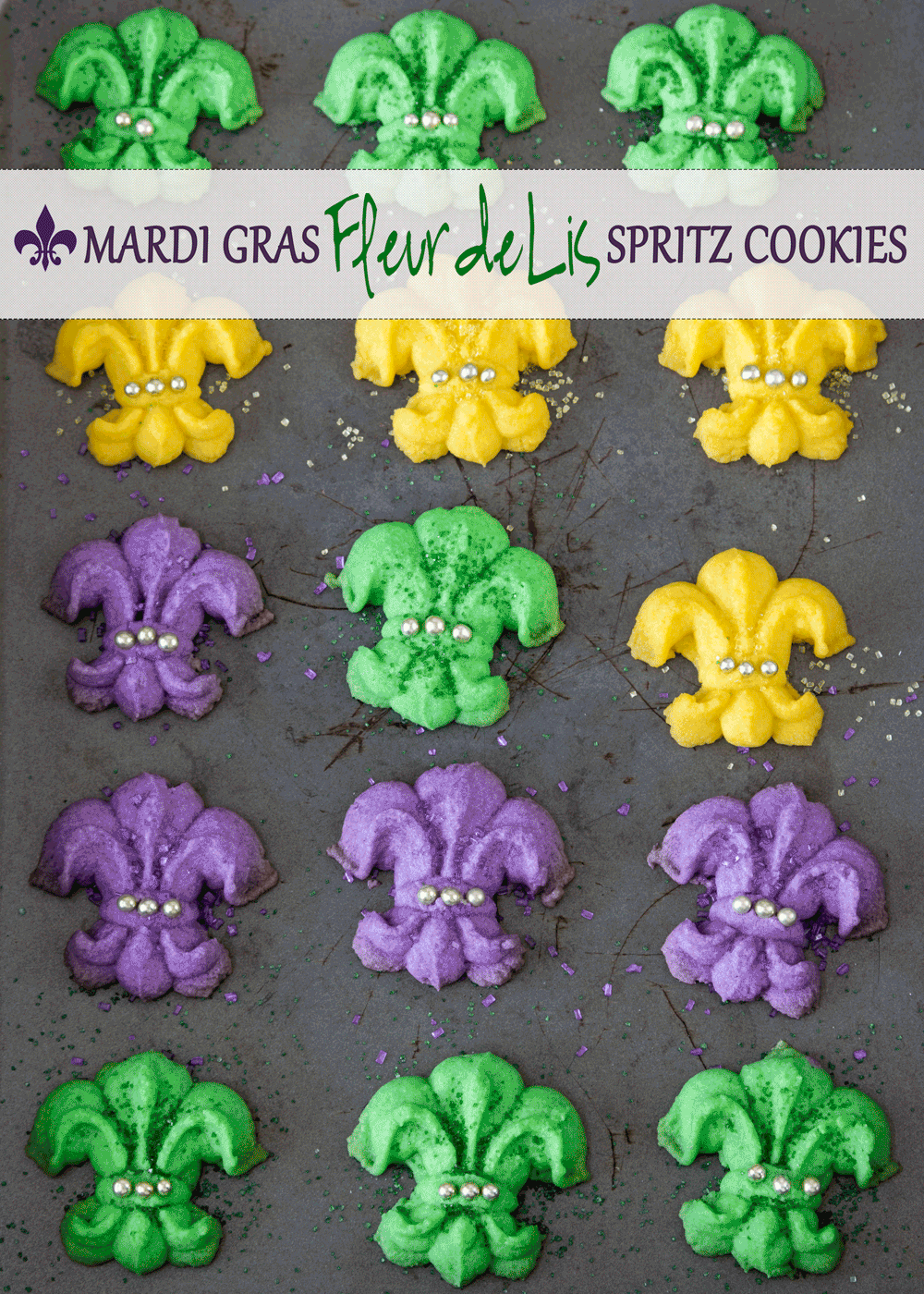 MARDI GRAS FLEUR DE LIS SPRITZ COOKIES
INGREDIENTS
2¼ cups all-purpose flour
¾ cup white sugar
½ teaspoon salt
¼ teaspoon baking powder
1 cup shortening
1 egg
½ teaspoon rum emulsion
DECORATIONS
purple, green and yellow food coloring
colored sanding sugar
gold dragees
PREPARATION
Preheat oven to 375 degrees F (190 degrees C).
Cream together shortening and egg. Gradually mix in the flour, sugar, salt and baking powder until well combined.
Add rum emulsion and mix well. Divide dough into thirds and add food coloring to desired colors.
Put through the cookie press onto cookie sheets. Decorate cookies prior to baking.
Bake at 375 degrees F (190 degrees C) for 8-10 minutes or until very light brown and set.
GADGETS
OXO Good Grips Cookie Press
(includes Fleur de Lis disk)
RESOURCES
LorAnn Rum Emulsion