dia de los muertos brownie bites
Celebrate Dia de los Muertos with this quick and easy recipe for sugar skull adorned brownie bites.
Dia de los Muertos is a holiday celebrated in Mexico and around the world honoring and remembering those who have passed. Meant to be a time of celebration of the lives of the deceased, gatherings include offerings of prayers, traditional food and drink, sugar skulls, and festive tissue paper decorations. The three-day celebration takes place each year from October 31st to November 2nd and these Dia de los Muertos Brownie Bites couldn't be any easier to whip up for some last minute celebrations.
You could just as easily bake a single pan of brownies and cut into bite-sized squares, but the Wilton Silicone Brownie Squares Baking Mold makes the most adorable two bite brownies. The clean edges of the molds really make festive decorations pop! The sugar skulls and bones used were also Wilton, but you can usually find a few options at cake decorating stores or online this time of year. Grab your favorite brownie recipe or your favorite box mix (we won't tell!) and bake a sweet Dia de los Muertos treat.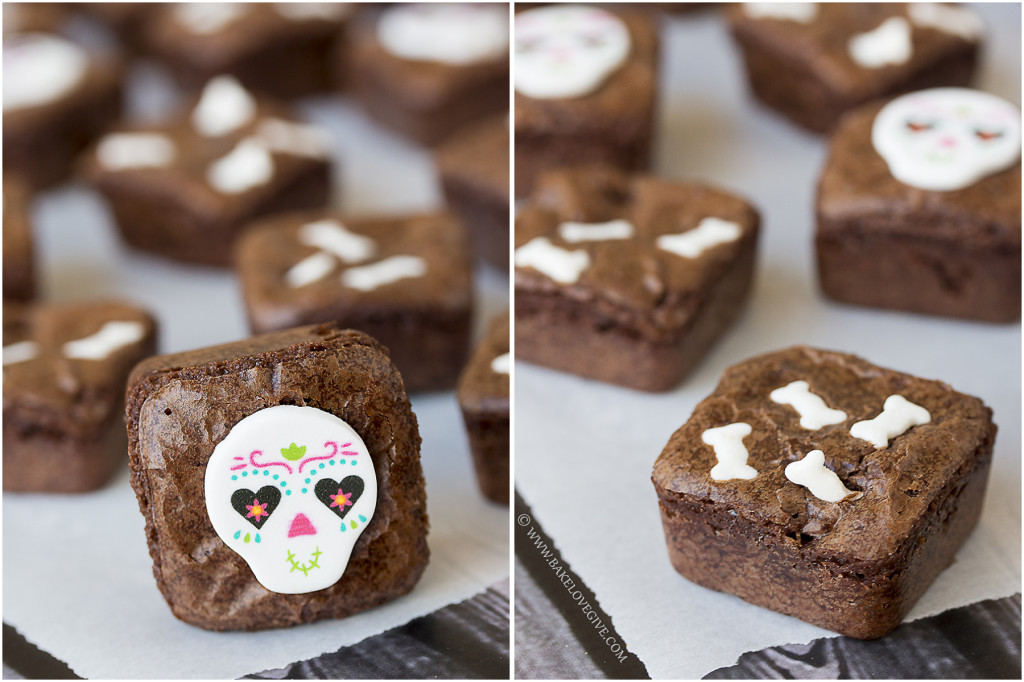 DIA DE LOS MUERTOS BROWNIE BITES
INGREDIENTS
1 batch of favorite brownie batter
Bone sprinkles
24 mini chocolate chips
24 sugar skull icing decorations
PREPARATION
Preheat oven to 350 degrees Fahrenheit.
Place silicone baking mold on top of a sheet pan. Scoop brownie batter into mold, filling each cavity ¾ full. Sprinkle bone sprinkles on top of half of the brownies.
Bake for 25-30 minutes until edges are browned and centers are set.
Immediately place a mini chocolate chip on top of each undecorated brownie. Allow heat from brownie to melt chocolate and use to adhere sugar skull.
Once cooled, place mold in freezer for five minutes to allow brownies to be easily removed. Gently stretch sides of mold away from brownies and pop out. Repeat with remaining batter.
Store in an airtight container at room temperature.
RESOURCES
Wilton Silicone Brownie Squares Baking Mold
OXO Good Grips Small Cookie Scoop
Wilton Sugar Skull decorations and Bone Sprinkles found at Target