Cinco de Mayo Mexican Hot Chocolate Sticks
Celebrate Cinco de Mayo with Mexican Hot Chocolate Sticks delightfully spiced with cinnamon and cayenne.
Our St. Patrick's Day White Hot Chocolate Sticks were such a hit last year that I just knew I wanted to make variations for all seasons. I'm the odd child that enjoys drinking hot chocolate year round regardless of the weather. Much like my mother who craves ice cream when it is freezing outside, I'll wind down with a piping hot mug of hot chocolate even in the middle of a stifling Texas summer.

Silicone ice cube trays are perfect for molding hot chocolate sticks as the sides can easily be pulled away to assist in un-molding. As fun and festive as paper straws are, they won't hold up to the un-molding process or being stirred in hot milk. Stick with wooden or plastic sticks and spoons. Gold is always a festive choice, but an assortment of brightly colored plastic spoons would also be perfect for your next fiesta.
I love the creaminess of the mini marshmallow bits when they dissolve, but you could also top these with red, white, and green jimmies or sprinkles to add to the Cinco de Mayo theme. If giving these as fun gifts or party favors, drop each stick into a cellophane bag and tie with coordinating ribbon and a small tag indicating the directions for serving is always a nice touch. Don't let warmer weather steer you away from making these fun Mexican Hot Chocolate Sticks and enjoying a feliz Cinco de Mayo!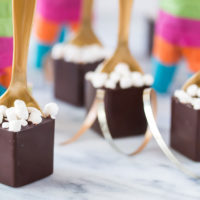 Mexican Hot Chocolate Sticks
Ingredients:
8 ounces premium milk chocolate, chopped
3 tablespoons confectioners sugar, sifted
1 teaspoon cinnamon
1/8 teaspoon cayenne pepper
Jet Puffed mini marshmallow bits
Directions:
Create a double boiler by placing a heat safe bowl on top of a small saucepan of boiling water. Place chocolate into bowl and stir until just melted.
Remove from heat and stir in the confectioners sugar, cinnamon, and cayenne until smooth.
Transfer chocolate to a disposable piping bag or ziplock bag with the tip cut off and divide evenly between six cavities of your silicone mold.
Place a plastic spoon or wooden popsicle stick into each square of chocolate and top with mini marshmallow bits.
Refrigerate for at least an hour until set, checking periodically to ensure spoons remain upright. Once completely set, carefully remove blocks from your mold and package.
TO SERVE
Stir hot chocolate block into 8 ounces (1 cup) hot milk until completely dissolved.
TIPS FOR EASY UNMOLDING
For best results, only fill every other cavity of your silicone mold in a checkerboard pattern. This allows you to gently pull the silicone away from all four sides of each block. Before attempting to unmold, check to make sure that chocolate is completely set and firm. Gently pull silicone from all sides of each block to loosen before pressing up on the block from the bottom of the mold. Patience is key as you carefully remove each block.
RESOURCES
Tovolo Perfect Cube Ice Trays
Plastic Spoons, Glittering Gold