chicken and sausage gumbo recipe
The variations are endless when it comes to traditional Cajun gumbo. Firm stances are taken on the inclusion or exclusion of ingredients such as seafood, tomatoes, and okra. Our family recipe is a simple recipe of Chicken and Sausage served with a hefty side of tradition and love.
Two years ago I shared our family's secret to making the perfect Cajun roux. At the time, I wasn't ready to share our gumbo recipe in its entirety, but I am now. You see, in the blink of an eye – sixty days to be exact – I lost all three of my remaining grandparents this summer. With little warning, the foundations of our family, the ones who taught me to love adventure, to travel the world, and to bring people together over a hot meal were gone. Each passing day brings a new first for our family – birthdays without their sweet wishes, holidays without their presence, and sitting down to their favorite meals without them.
My first pot of gumbo after my grandparents' passing was emotional, therapeutic, and one of my most beautiful rouxs I've made to date. It was at that moment that I realized that one of the best ways to honor their memory was to share their Chicken and Sausage Gumbo recipe and that I was finally ready to do so. Growing up, my maternal grandparents were like a second set of parents. We lived close by, they watched me after school, and Sunday dinners were anything but optional. So many dishes will forever bring back visions of their blue checkered kitchen, my Poppop standing over the grill, and my Mommom baking up a storm during the holidays; but nothing will be quite as special as a pot of their chicken and sausage gumbo.
My grandparents were entertainers. They designed their last home in Austin with parallel french doors so you'd be welcomed into the front and shuffled right on through to the back patio to sit and stay a while. Their kitchen centered around a grand butcher block, the one where I grew up learning their recipes by their sides, and the one that encouraged all meals to be served family style. There was only one rule when visiting their home: they'd serve you the first time and show you where to find everything, but after that you were one of the family and you were on your own.
For as far back as I can remember, they hosted an annual New Year's Day party. The day started at kickoff of the first football game and ended when the score of the last game was settled. Or when the guy napping on the couch woke up to head home. It was a casual, serve yourself, feast of leftover Christmas cookies, black-eyed pea pinwheels (for good luck, of course!) and the biggest pots of gumbo you've ever seen. Friends and family looked forward to that gumbo so much every year that the first year they stopped hosting, they still had people show up at the house just assuming their invite had gotten lost in the mail. Lucky for them, they kept the tradition going and there was always a (much smaller) hot pot of gumbo on the stove every New Year's Day.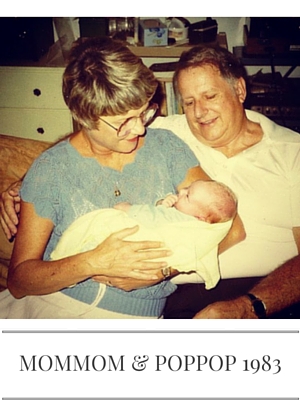 There's so much that I want you to know about my grandparents, but we'll start with this – everyone was welcomed into their home as one of their own; their chicken and sausage gumbo was the best in town; if you came to visit and left hungry, it was your own dang fault; and that they absolutely adored their only grandchild.
Every family has their own recipe for gumbo. You may make yours with seafood or tomatoes or okra, and that's okay, but this is our recipe. Just one bite and I'm flooded with the memories of my childhood, of our family gatherings, and, most importantly, of the two amazing grandparents that I was lucky enough to know and love for over thirty years. I hope you too will make a pot of our family gumbo and enjoy it with your friends and family this winter.
One of our secrets is to place your diced onions in an 8 quart stock pot. The second your roux hits a deep copper color, pour the hot roux over the diced onions allowing heat from the roux to start the cooking process.
Stirring the hot roux into the onions begins to break them down and infuse them with the complex and rich flavors of a perfect Cajun roux. Use this mixture as the foundation to begin building a delicious gumbo.
CHICKEN & SAUSAGE GUMBO
INGREDIENTS
4 large white onions, diced
1 cup all purpose flour
1 cup vegetable oil
2 pounds pre-cooked beef smoked sausage, sliced
1 pound boneless skinless chicken breasts
1 pound boneless skinless chicken thighs
8-10 cups hot water
1 bunch green onions, chopped
2 tablespoons gumbo file seasoning
2 teaspoons black pepper
salt to taste - start with 2 teaspoons
PREPARATION
Place diced onions in the bottom of an 8 quart stock pot and set aside.
Combine flour and oil in a cast iron skillet over medium-low heat, stirring with a wooden spoon until smooth.
Stir continuously, making sure to scrape the bottom of the skillet so that the flour does not burn.
Continue to stir over medium-low heat as the roux foams, thickens and eventually darkens.
Patience is key as it will take at least 15-20 minutes for the roux to significantly darken. Do not increase heat to try and speed up the cooking time.
Place an old, dark, rusty, dirty penny on a white plate or tile next to your cooking surface. As the roux begins to darken, splatter a drop or two next to the penny. When the roux is the same color as the penny it is done.
Remove from heat and immediately pour the roux over the diced onions.
Stir roux to coat onions. Add sausage, chicken, and hot water, covering all ingredients by about an inch.
Bring to a boil and simmer over medium-high heat for 30 minutes. Remove from heat and allow to cool for 1-2 hours at room temperature.
Skim excess fat from top and discard. Remove chicken, shred or roughly chop, and return to pot.
Stir in diced green onions, file, pepper, and salt. Return to medium heat and warm through to serve.
Ladle over white rice and serve alongside buttered, crusty french bread.
NOTES
This recipe can easily be halved, but keep in mind that gumbo freezes beautifully. We pack up our leftovers in single serving freezer containers to save for a rainy day.
GADGETS
OXO Good Grips Saute Paddle
for stirring and scraping the roux
Lodge Pre-Seasoned Deep Skillet
is our favorite cast iron skillet for making rouxs