alfajores spritz cookies
Celebrate Cinco de Mayo with a batch of Alfajores Spritz Cookies; these cookies are quick to throw together and bursting with flavor!
I love Alfajores – crumbly shortbread, rich dulce de leche and a sweet dusting of powdered sugar. What I do not love is rolling and cutting dozens of cookie rounds as the original recipe tends to call for. In a moment of kitchen genius, I came up with a spritz dough that yields a similar shortbread and eliminates the need for rolling and cutting the dough. The shortbread turned out exactly how I envisioned and the ridges of the cookie press create the perfect surface for a dusting of sweet sugar.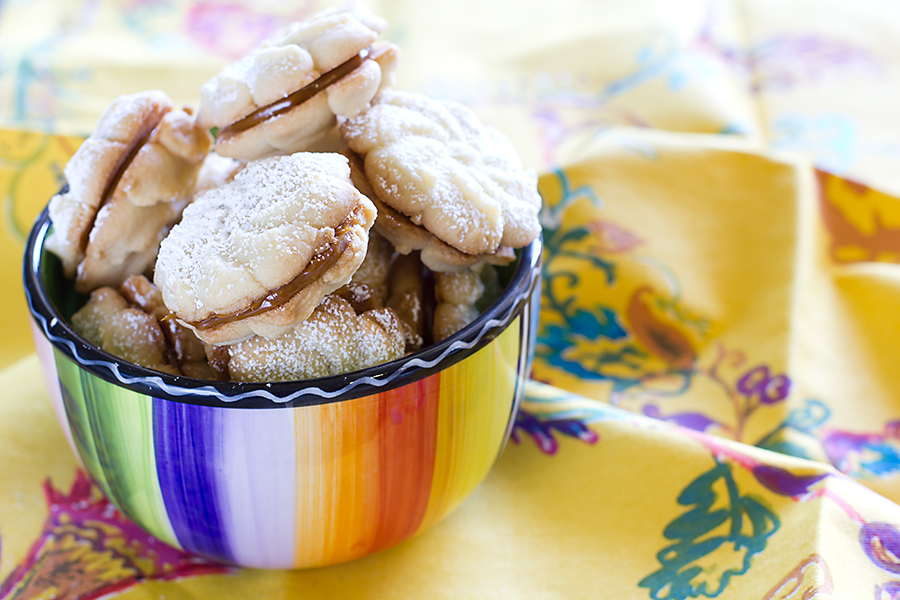 ALFAJORES SPRITZ COOKIES
Yields: approximately 2 dozen cookies
INGREDIENTS
2¼ cups all-purpose flour
¾ cup white sugar
½ teaspoon salt
¼ teaspoon baking powder
1 cup shortening
1 egg
½ teaspoon Mexican Vanilla
1 cup dulce de leche
PREPARATION
Preheat oven to 375 degrees Fahrenheit.
Cream together shortening and egg. Gradually mix in the flour, sugar, salt and baking powder until well combined. Add Mexican Vanilla and mix well.
Put through the cookie press onto cookie sheets.
Bake for 10 -12 minutes or until very light brown and set. Allow cookies to cool completely before filling.
Spread or pipe a generous layer of dulce de leche on the bottoms of half of the cookies. Sandwich the remaining cookies, bottom side down, on top of the dulce de leche.
Dust tops with powered sugar and store in an airtight container for up to one week.
GADGETS
Mirro Copper Cookie Press or
comparable modern cookie press